Textures Hair Salon… Gaithersburg's Ethnic and Natural Hairstyle Experts!
Your hair is uniquely beautiful. At Textures Hair Salon, we treat it that way!
Specialists in Ethnic Hair Care…And Experienced With All Textures
The six professional stylists at Textures Hair Salon provide personalized attention and care to all our clients. Book an appointment or consultation on line or at our salon, and we'll help you discover fresh looks exclusive to your hair texture, face shape and individual style. Women and men from all ethnic backgrounds — if you have any type hair — you can choose from the most up-to-date long, medium and short natural hairstyles; our staff is adept at handling strands of all textures, thicknesses and lengths. If this is your first time check out our hair salon coupon!
Whether you prefer the silky luxury of Virgin Remy Hair, the beauty of hair extensions or an elegant weave — or simply want to reinvent your look — the staff at Textures can help you choose from a wide range of options and services to create a style that's fiercely, fashionably yours!
Ready For A Natural Hairstyle? We Can Help You Reclaim Your Original Beauty!
If you want to leave chemicals and heat-styling behind, the professionals at Textures are experts with all the natural hairstyles listed below and on our Hair Services page. We can guide you to a natural hairstyle that works for you, even if your hair has been damaged! (For useful advice in the meantime, see our Tips for Maintaining Natural Hairstyles.)
Cornrow Styles
Two Strand Twist
Thermal Smooth
Loc Maintenance
Dreadlocks
Micro Braids

Or Transform Your Style Any Way You Like
Textures stylists know hair. They know color. And they know how to put the two together for an unforgettable look! Let us introduce you to a full range of quality products and hair treatments including the following. See even more on our Hair Services page.
Virgin Relaxers and Touch-Up
Highlighting
Hair Color: Dimension colors; Highlights; Permanent and
Semi-Permanent
Wave by Design
We Also Specialize In and Sell A Variety of Hair Extensions and Lace Wigs
Would You Like To Change Up Your Hair? Lengthen Your Hair?
Our stylists can match your texture and color to many options of quality hair extensions and lace wigs. They will skillfully weave it into your hair, and style it to look natural. Then, they will make sure your custom weave or sewn in weave is properly done and a perfect fit. Finally, you'll learn how to maintain and care for your hair extensions. Whether you want a clip-in extension, strand-by-strand fusion or Lace Front Wig, we're confident you'll be satisfied with your new look! (If you prefer, you can purchase by phone; we ship.)
Lace Front Wigs: The Answer For Hair Loss, Hair Thinning And Bald Spots
Let the staff at Textures show you how easy it can be to keep looking your best! We stock a wide range of amazing, virtually undetectable lace wigs:
Full Lace Wigs
Lace Wigs
Lace Front Closures
Silk Based Closures

Intriguing, Beautiful Braids: Choose From Many Options
Below are just a few of the many braided hairstyle options you'll find at Textures. Visit our Hair Services page for our many braiding styles!
| | | |
| --- | --- | --- |
| | | |
| | | |
Visit Our Styles Gallery!
TESTIMONIALS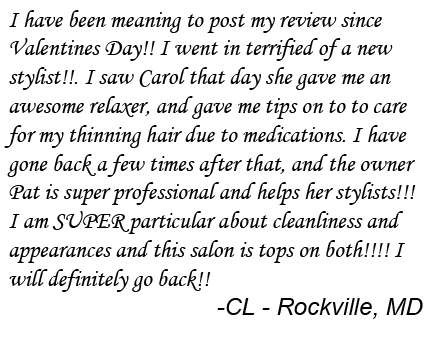 Hair Salon Coupon

TEXTURES NEWS
We've recently relocated to the Kentlands in Gaithersburg, Montgomery County, Maryland.
You can find our welcoming and relaxing hair salon behind Whole Foods Market on Main Street in the Kentlands community—and we're convenient to Rockville, Germantown, Silver Spring, Northern Virginia and Washington, D.C.
Professional Hair Stylists Who Understand Hair—And Deliver The Precision Haircut You Want
Coming Soon! — We are adding a Bios page where you can find information on each of our hairstylists!
Every hairstylist at Textures was chosen because of her unique professional ability and years of experience designing hair and delivering precision haircuts. Manager/owner Patricia Lindsay herself has been creating fabulous hair designs for over 20 years.
Ask any of the satisfied customers,
a precision haircut from Textures gets you noticed!
Your hairstylist is just a phone call away. Your total satisfaction is guaranteed. Book your appointment on line or at Textures Hair Salon today!
TIPS FOR MAINTAINING NATURAL HAIRSTYLES
Ready to leave chemicals and heat-styling behind? Here are some tips that can get you back to a fabulous natural hairstyle you'll be proud of!
Do your research. Find out which method suits you best and stick with it!

Be open-minded during the transition. You may find yourself accessorizing and wearing styles you never have before.

Don't use too many styling products at once—especially at first.

Be patient. The first few months of growth can be challenging, but when your scalp and follicles heal, your natural, soft, manageable hair texture will come out.

Stay moisturized. Try a leave-in conditioner for maximum hydration. Other recommended products are olive oil, shea butter, cocoa butter and monoi oil.

Less heat, less stress. To avoid hair breakage, try different styling techniques to give your strands some much-needed comfort.
Contact any of the professional stylists at Textures for more good advice!